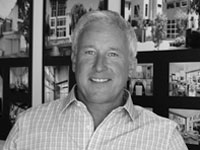 Dave Dykstra
I established Dave Dykstra Architects in the Fall of 2001 to continue my passion for the creative process that residential architectures offers.
This passion began with degrees from the University of Colorado (Bachelor of Arts in Design, '85) and the University of Washington (Master of Architecture '91). Upon completion of graduate studies, I worked for Baylis Architects and Stuart Silk Architects where this passion was realized through my role as project manager on numerous homes.
Now, with over 20 years, experience, I continue to provide a personal level of service to create unique Northwest homes that are not only inspired by the client, but will also bring inspiration to them.
Firm
Dave Dykstra Architects seeks to inspire clients with equal amounts of artistry and technical skill. The style of the work is sculptural in its form, providing rhythm and balance in order to create architecture that is integrated and restful. Architecture should not shout out or hide away, but rather provide a harmonious balance between function and aesthetics.
To achieve this balance, clients participate in a detailed one-on-one dialogue that ultimately fuels the creative process. This process is guided by the client's needs and perceptions and our stylistic approach. It is through the application of this personal approach as well as a respect for budget and schedule needs, that Dave Dykstra Architects is able to provide a uniquely designed home for each client.